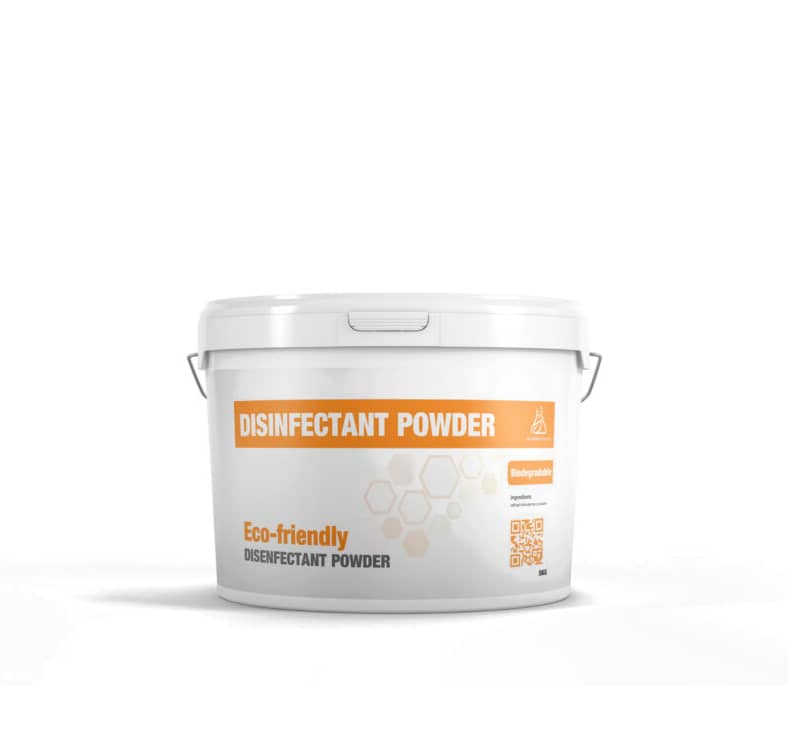 Disinfectant Powder is an extremely versatile disinfectant, it contains Chloramine-T in a highly pure form. VS is used to meet strict hygiene regulations in a wide-range of industries including: poultry farming, aquaculture, mining, industrial factory disinfecting, general office disinfecting & many more.
Disinfectant Powder targets problematic bacteria & viruses; maintaining safe viral & bacterial levels in an environment where it is necessary to do so
Disinfectant Powder is safe to human skin, is fully biodegradable & not flammable. The substance becomes active against pathogenic microorganisms when exposed to moisture; it is in a stable form when dry (in storage).
THE UNIVERSAL DISINFECTANT

All sectors in today's reality need a universal and
versatile solution in order to ensure containment of
harmful pathogenic microogranisms. Disinfection with
Chloramine-T is a reliable way of ensuring the right
hygiene conditions are met under the most strict
conditions.
Disinfectant Powder can be used in a wide-range of areas with­
out the risk of causing harm to animals or the
environment.
Disinfect: equipment, animal houses, vehicles, offices &
many more.
EFFICACY
Disinfectant Powder is effective against many harmful viruses & bacteria related to intensive farming applications, aquaculture & general areas.
A portion of these are listed below:
Bacteria
Aeromonas salmonicida (Furunculosis)
Enterobacteria
Flexibacter maritimus (Marine columnaris)
Flavobacterium branchiophilum (BGD)
Flavobacterium columnaris (Columnaris)
Vibrio anguillarum (Vibriosis)
E. coli
Listeria
Pseudomonas sp
Salmonella sp
Staphylococcus aureus
Streptococcus faeclis
Vibrio harveyl
Vibrio salmonicida
Yersinia ruckeri (Red mouth disease)
Viruses
Infectious Pancreatic Necrosis (IPN)
Infectious Salmon Anaemia (ISA)
Avian influenza virus
Avian reo disease virus
Celo virus
Newcastle disease
Gumboro disease
Infectious bronchitis virus
Infectious bursitis virus
Pseudo bird pest virus
Fungi
Saprolegnia
Parasites
Gyrodactylus safaris
lchthyobodo necator (Costia)
lchthyophthirius multifilis (White spot)
Neoparamoeba pemaquidensis (Amoebic Gill Disease)
Trematodes